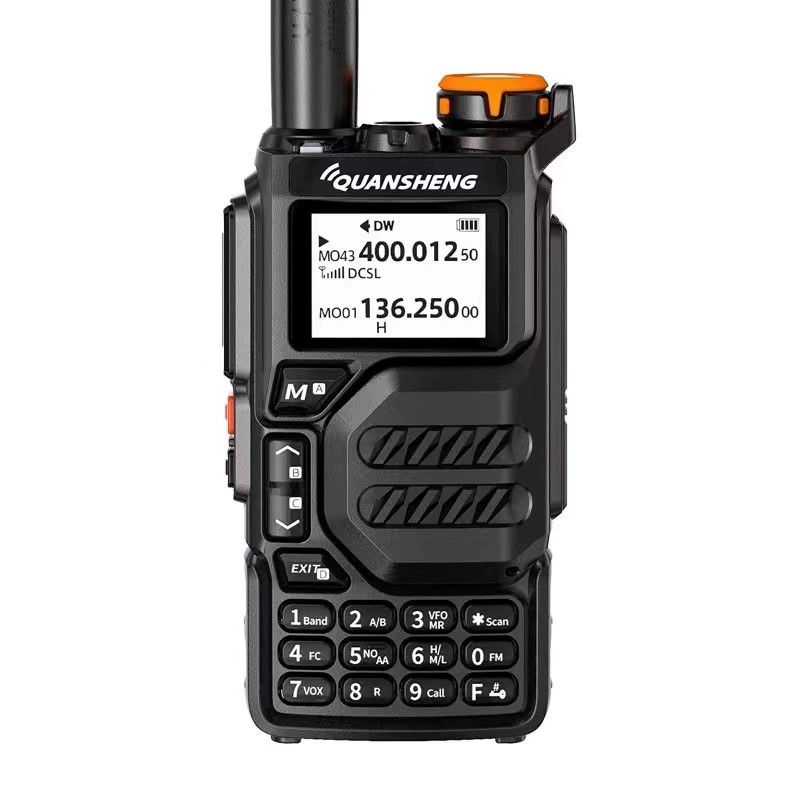 Incredibly cheap dual band handheld boasting a heap of great features and hackable firmware with some awesome mods created by the ham community.
Gallery
Description
The Quansheng UV-K5 is a 5W handheld transceiver on the 2m and 70cm bands. It has a wide receive range of 50-600MHz. It can also receive AM, such as for airband. It's an inexpensive multiband radio that has gained an experimental firmware from the community (see links in Resources section) that expands the range to 18 MHz to 1300 MHz (the maximum limits of the Beken BK4819 chip inside).
FM TX is possible in the 136-174MHz and 400-470MHz bands, with AM reception from 108-136MHz (850MHz with the extended mod)
It has some advanced features like a frequency counter, a very fast CTCSS decoder, and the ability to share channels to other UV-K5s over RF. It also allows a password lock.
Coverage:
F1: 50.0000-76.0000MHz (RX only).
F2: 108-.0000-135.9750MHz (RX only).
F3: 136.0000-173.9750MHz (TX and RX).
F4: 174.0000-349.9750MHz (RX only).
F5: 350.0000-399.9750MHz (RX only).
F6: 400.0000-469.9750MHz (TX and RX).
F7: 470.0000-600.0000MHz (RX only)
Transmitter
| | |
| --- | --- |
| Maximum RF output (watts): | 5 |
Power
| | |
| --- | --- |
| Battery voltage: | 7.2 |
| Battery capacity (mAh): | 1600 |
Physical
| | |
| --- | --- |
| Width (mm): | 50 |
| Height (mm): | 110 |
| Depth (mm): | 37.5 |
| Weight (g): | 234 |
| Connectors: | SMA, Microphone, Speaker Out, USB Port |
Meta
| | |
| --- | --- |
| Year of release: | 2023 |
| CHIRP compatible: | Yes |
| Reviews available: | eHam reviews |