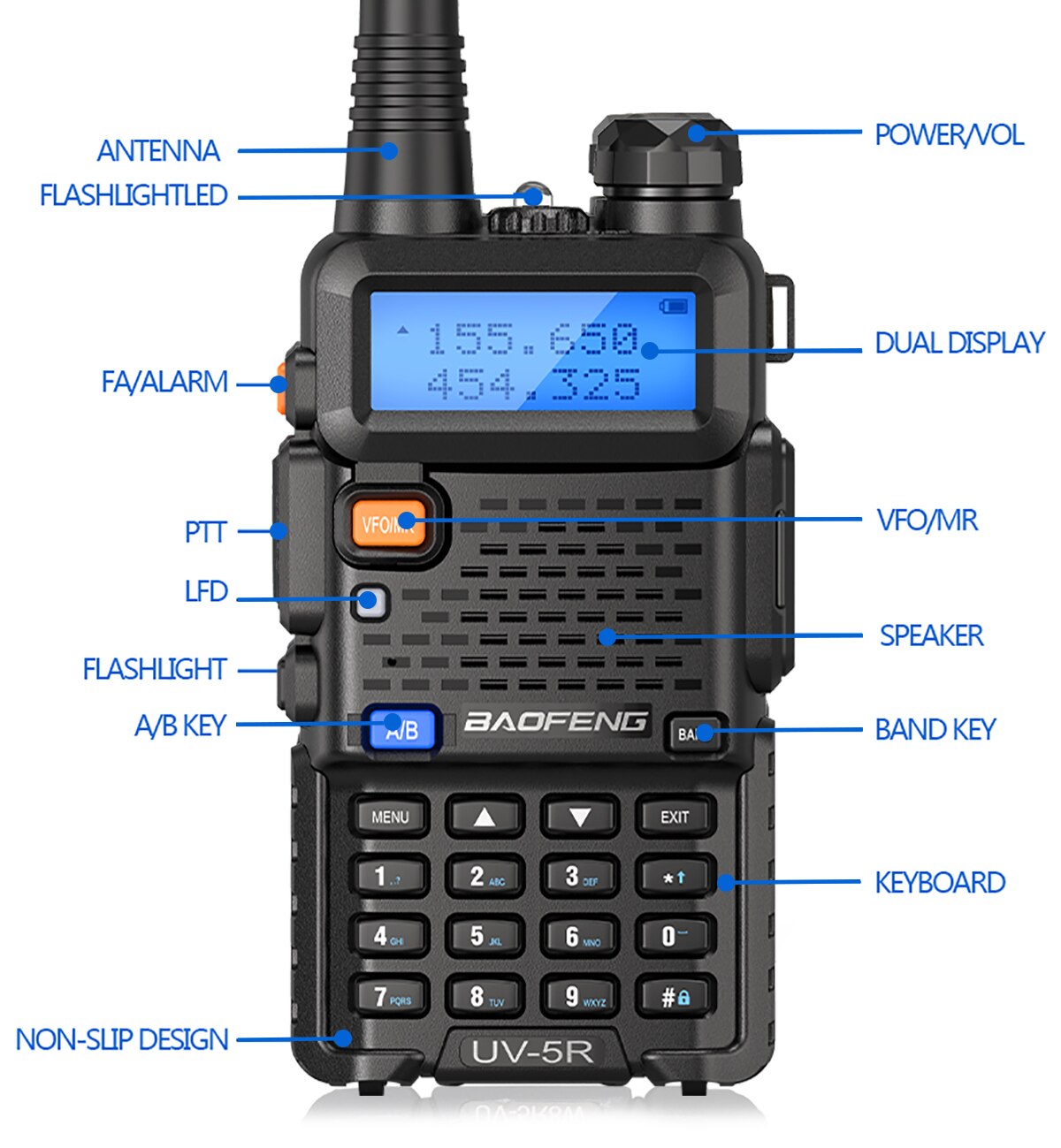 Description
Without a doubt, theBaofeng UV-5R is the best known of the low cost Chinese handhelds. Incredibly good value for the new or old ham alike.
The Baofeng UV-5R is a remarkable entry-level handheld transceiver that has captured the attention of newcomers to the world of ham radio. This compact and affordable radio offers a plethora of features and functionalities, making it an excellent choice for those looking to dip their toes into amateur radio communication.
One of the key reasons the UV-5R has become a springboard for newcomers is its accessibility. Its user-friendly interface and straightforward programming allow beginners to get started with ease. It covers a wide range of frequencies, including both VHF and UHF bands, making it versatile for chatting on your local repeaters, or working simplex.
Moreover, its affordability is a major draw for newcomers on a budget. The UV-5R provides excellent value for the price, allowing individuals to invest in their newfound hobby without breaking the bank. It also opens the door to experimentation, as users can explore different antennas and accessories to enhance their radio experience.
The Baofeng UV-5R has not only introduced countless individuals to ham radio but has also fostered a sense of community among enthusiasts. It serves as a stepping stone, encouraging newcomers to explore the vast and fascinating world of amateur radio, where they can connect with fellow operators, engage in emergency preparedness, and even participate in public service events. In essence, the Baofeng UV-5R has become a catalyst for sparking a lifelong passion for ham radio among newcomers.
Gallery
Transmitter
| | |
| --- | --- |
| Maximum RF output (watts): | 5 |
Power
| | |
| --- | --- |
| Battery voltage: | 7.4 |
| Battery capacity (mAh): | 1800 |
Physical
| | |
| --- | --- |
| Width (mm): | 58 |
| Height (mm): | 110 |
| Depth (mm): | 32 |
| Connectors: | SMA, Microphone, Speaker Out |
Meta
| | |
| --- | --- |
| Also known as: | See link in Resources section |
| Year of release: | 2012 |
| CHIRP compatible: | Yes |
| Reviews available: | eHam reviews |