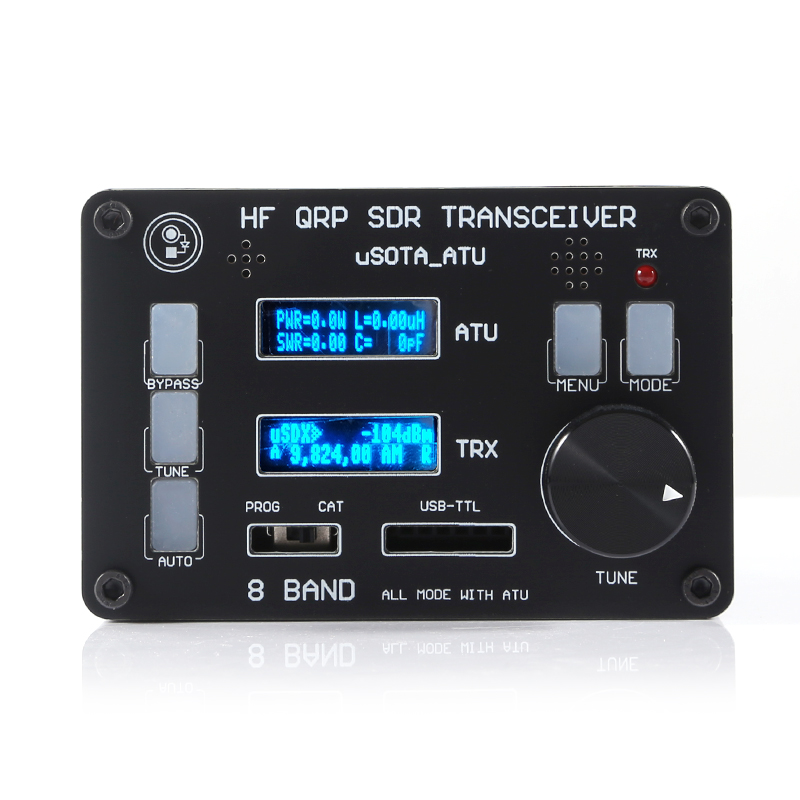 Manufacturer: Unbranded
Categories: HF
Type: Portable
Guide Price
| | |
| --- | --- |
| RRP ($): | 160 |
| RRP (£): | 160 |
| RRP (€): | 160 |
Buy
Description
The uSOTA-ATU is derived from Guido PE1NNZ's open source project, the uSDX/QCX-SSB. The ATU portion is a miniaturized clone of David N7DDC's famous ATU100 automatic antenna tuner unit, adapted for QRP operation up to 10 watts.
Radio:
8 bands: 80m – 10m
Emission efficiency: higher than 85% ( 3.5MHz; 5.3MHz; 7MHz; 10MHz; 14MHz), higher than 80% (18MHz and 21MHz), higher than 70% for 29MHz
Connect to PC, use FT8, JS8, FT4 and other digital mode software control, support CW automatic decoding
It can reach 3-5W power in 8 bands and can freely upgrade the PA module (TO-220)
High-precision TCXO for KDS, frequency accuracy better than 1PPM, frequency stability better than 0.5PPM
Independent core board, RF PA board and ATU board to avoid own signal interference
Ultra-small size: 100 x 90 x 57mm/3.9 x 3.5 x 2.2″ (without protrusions)
All LPF parts use 100V C0G/NP0 capacitors
Use original LM4562 or LM833 or LT6231 op amp chip
Full mode support: USB, LSB, CW, AM, FM – Although it is noted that while AM/FM are available, they are not very good.
Receive attenuator: 0dB, -13dB, -20dB, -33dB, -53dB, -60dB, and -73dB
DSP filter bandwidths: 4000, 2500, 1700, 500, 200, 100, and 50 Hz
Receiving background noise: –135dBm at 28MHz (BW=200Hz)
Receiver Front-End selectivity: Tuning frequency -45dB/decade roll-off +/- 2kHz
SSB/carrier suppression: transmit, better than 45dBc; receive, better than 50dBc
Note that there is no built-in battery or built-in speaker. An external power supply and external speaker, headphones, or the included speaker-mic are required.
ATU:
Maximum tuning inductance: 8.42µH
Minimum tuning inductance: 0.05μH
Maximum tuning capacitance: 1869pF
Minimum tuning capacitance: 10pF
Gallery
Transmitter
| | |
| --- | --- |
| Maximum RF output (watts): | 5 |
Physical
| | |
| --- | --- |
| Width (mm): | 90 |
| Height (mm): | 57 |
| Depth (mm): | 100 |
| Connectors: | BNC, Microphone, Morse Key, PTT Out, Speaker Out, CAT |
Resources