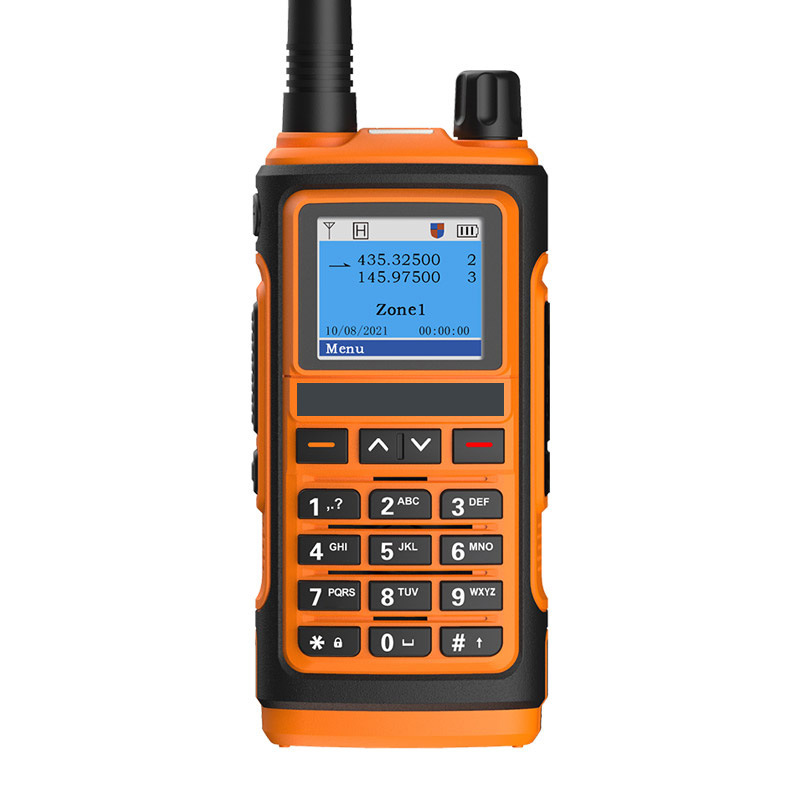 The Baofeng UV-17 is essentially an upgraded UV-5R featuring 999 memory channels, CTCSS/DCS support, and a 1.44-inch LCD screen for clear and versatile operation. Its USB Type-C charging capability and user-friendly programming options make it a modern and convenient choice for both amateur radio users and professionals.
Gallery
Description
The Baofeng UV-17 is an upgraded version of the popular Baofeng UV-5R radio. One of its standout features is the impressive 999 memory channels, which allow users to store a wide range of frequencies and settings for easy access. It also supports CTCSS/DCS codes and features a VOX mode for hands-free operation, making it a versatile communication tool. Additionally, it offers A/B band independent operation, meaning you can monitor and transmit on different bands simultaneously, and it supports dual-band and dual-display functionality.
Important: There are multiple variants of this radio which have different features:
UV-17 – Blue screen, no airband RX, no USB-C charging, no GPS, no FCC ID
UV-17 Pro – Black screen, airband RX, USB-C charging, no GPS, FCC ID
UV-17 Pro GPS – Black screen, airband RX, USB-C charging, GPS, FCC ID
UV-17R – Black screen, airband RX, USB-C charging, GPS, FCC ID, TX is locked to the ham bands
…and possibly others!
Be sure of which you are getting when you order! See this video for an overview of the different versions: Which UV-17 are you really getting?
The UV-17 boasts a 1.44-inch HD LCD screen with a toughened film design, ensuring a clear and durable display. This display makes it easy to view important information such as channel names and frequencies, enhancing user convenience. Another modern touch is the USB Type-C charging capability, allowing you to recharge the radio using commonly available power sources such as a car charger, power bank, or laptop, making it highly portable and convenient for on-the-go use.
For those who want to monitor channels efficiently, the UV-17 offers Dual Watch and Sync functions. The Sync function allows users to monitor a single channel while displaying both the channel name and frequency information on the screen. Furthermore, it supports three scanning modes: Channel Scanning, Frequency Range Scanning, and CTCSS/DCS Tone Scanning, providing flexibility in scanning options.
This radio is also user-friendly when it comes to programming. Users have the choice of programming it via computer software or using the keypad for various settings adjustments, such as adding or deleting memory channels, adjusting VOX, squelch, and power save levels, and more. The Baofeng UV-17 Pro is a feature-rich and versatile radio that caters to the needs of both amateur radio enthusiasts and professionals, making it a valuable addition to communication tools.
Transmitter
| | |
| --- | --- |
| Minimum RF output (watts): | 1 |
| Maximum RF output (watts): | 5 |
Power
| | |
| --- | --- |
| Battery voltage: | 7.4v |
| Battery capacity (mAh): | 1800 |
Physical
| | |
| --- | --- |
| Width (mm): | 61 |
| Height (mm): | 135 |
| Depth (mm): | 39 |
| Connectors: | SMA, Microphone, Speaker Out |