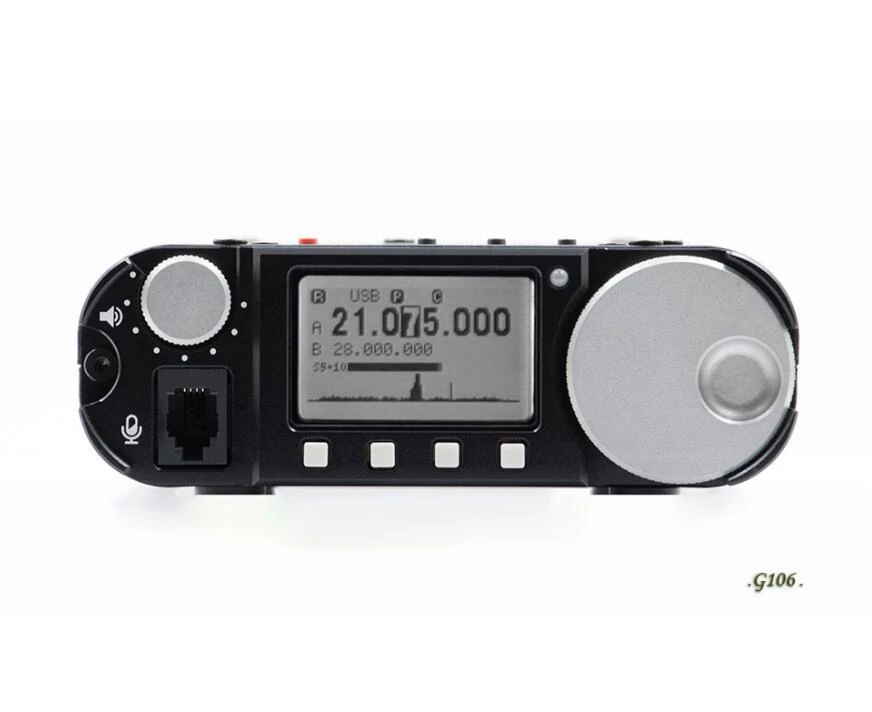 Description
The Xiegu G106 is a 5 watt QRP transceiver with a general coverage receiver 0.55-30 MHz with SSB/CW/AM transmit capabilities in the 80 to 10 meter amateur radio bands, WARC bands included. The G106 also have Wide FM receive in the broadcast FM band 88-108 MHz.
The G106 is based on an SDR architecture with 16bit sampling to deliver superior performance. It has a digital CW filter with three bandwidths to help you fight interference and get more clear reception of weak signals. With the optional external DE-19 digital adapter, it can be connected to a PC for working digital modes including FT8.
As an entry-level portable SDR transceiver, G106 will be the perfect HF transceiver to start explore the bands with SSB, CW and exciting digital modes like FT8.
Features:
– High-performance SDR 16-bit circuit
– Compact, robust and user friendly
– General coverage HF receiver
– Transmit in all amateur radio bands 3.8~29.7MHz
– WFM broadcast receiving in 88-108 MHz
– Digital modes option capable
– Computer control ready
Gallery
Transmitter
| | |
| --- | --- |
| Maximum RF output (watts): | 5 |
Power
| | |
| --- | --- |
| Minimum operating voltage: | 9 |
| Maximum operating voltage: | 16 |
Physical
| | |
| --- | --- |
| Width (mm): | 120 |
| Height (mm): | 40 |
| Depth (mm): | 135 |
| Weight (g): | 720 |
| Connectors: | BNC, Microphone, Morse Key, DATA Port, ACC Port, CAT |