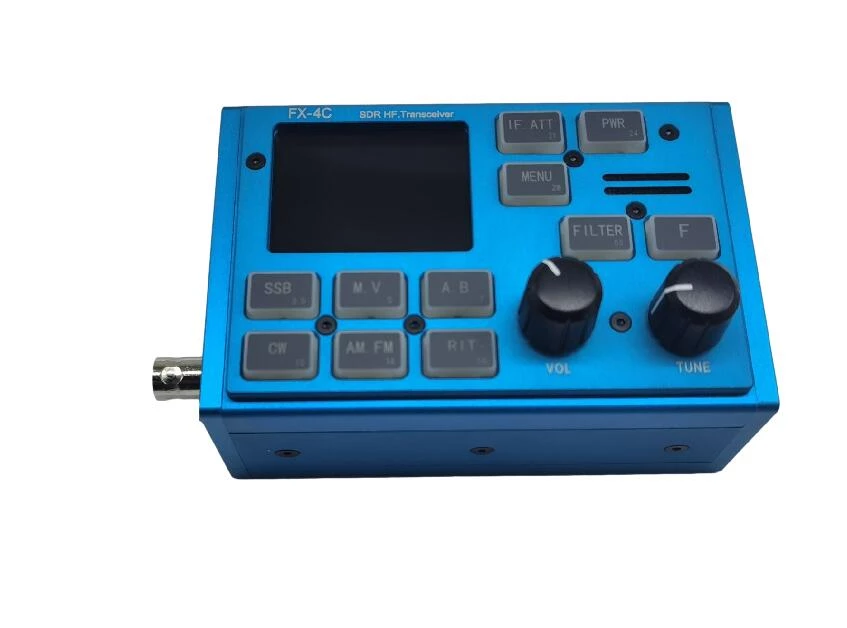 Manufacturer: BG2FX
Categories: HF
Type: Portable
Guide Price
| | |
| --- | --- |
| RRP ($): | 550 |
| RRP (£): | 450 |
| RRP (€): | 520 |
Buy
Description
The BG2FX FX-4CR is a third-generation Software Defined Radio (SDR) HF transceiver that offers a power range of 1-20W, which can be continuously adjusted to suit your needs. This device supports various modes, including USB, LSB, CW, AM, and FM.
Key Features
The FX-4CR is equipped with a 2.0" TFT display screen that provides a spectrum display and a 48kHz waterfall plot. It offers dual VFO operation (VFO A and B) with split mode operation.
One of the standout features of this transceiver is its internal USB sound card that allows for serial communication via USB. Additionally, it comes with built-in Bluetooth functionality for wireless connectivity.
The device also boasts an adjustable DSP digital noise reduction feature to enhance your communication experience. It operates within an ultra-wide input voltage range of 9V – 18V.
Technical Specifications
The FX-4CR operates within the transmission range of 3.5MHz – 54MHz, which covers all amateur radio frequencies. It offers quick switching among various frequency bands for convenient operation.
The device has a receiving sensitivity of -121dBm (0, 20uv) and a frequency stability of +/-0.5PPM. It also ensures minimal spurious emission with -43dB (Second and third harmonic) and carrier suppression of -50dB.
The antenna impedance is set at 50ohms, and the audio output power is 1W. The recommended voltage range for operation is 10V – 18V DC (14V recommended), but it's advised to keep the maximum voltage below 16V for long-term operation.
Package Contents
The FX-4CR package includes:
The Transceiver
A Hand Microphone
A Power Cable with Spare Fuses
A USB Data Cable
An Instruction Manual
A Carrying Case
In conclusion, the FX-4CR third-generation SDR HF transceiver is a versatile device packed with features designed to enhance your amateur radio experience.
Gallery
Transmitter
| | |
| --- | --- |
| Minimum RF output (watts): | 0.1 |
| Maximum RF output (watts): | 10 |
Power
| | |
| --- | --- |
| Minimum operating voltage: | 9 |
| Maximum operating voltage: | 18 |
Physical
| | |
| --- | --- |
| Width (mm): | 65 |
| Height (mm): | 43 |
| Depth (mm): | 107 |
| Connectors: | BNC, Microphone, Morse Key, Speaker Out, USB Port, XT-60 |
Resources