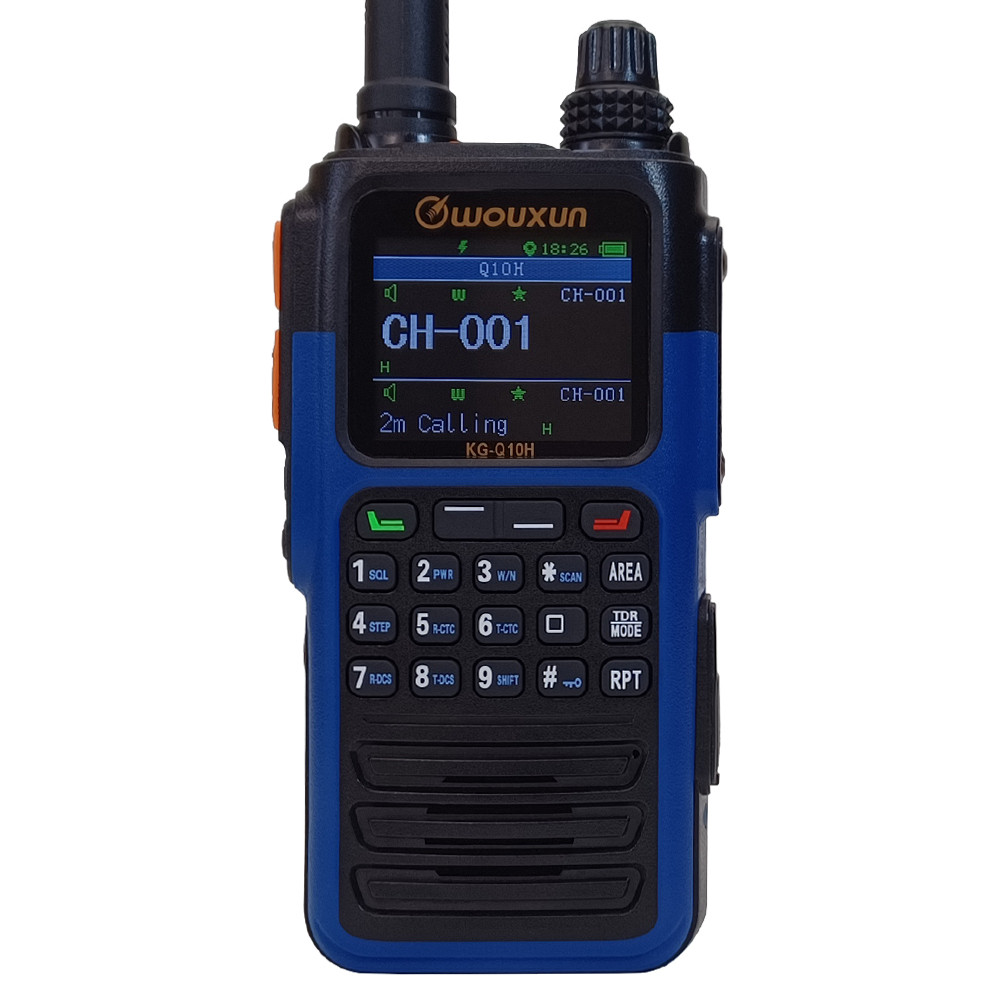 Description
The Wouxun KG-Q10H is a quad-band transceiver with a superheterodyne receiver. It can transmit on the 6m, 2m, 1.25m, and 70cm ham bands. It can also receive on a wide spectrum of other bands, including 50-54 MHz, 108-174 MHz VHF, 220-225 MHz UHF, 320-480 MHz UHF, and 714-999 MHz. It can also receive airband frequencies in AM mode.
The radio has a NOAA weather mode with weather alerts and five Weather Alert Notifications. It also has a built-in commercial FM radio. The KG-Q10H has 999 programmable memory channels, cross band repeater, channel and frequency modes, simultaneous dual channel receive and transmission at up to 6 Watts Output Power. It supports standard and non-standard CTCSS tones and DCS codes, CTCSS/DCS tone scan, channel scan, and priority channel scan.
It can display GPS location data of other Q series radios that are transmitting their GPS location data. It has a full color dual channel display with 14 different display themes. Four of these themes are customizable in the programming software. There are two customizable display messages as well.
Additional features such as a voice guide in English, stopwatch timer, 24 hour clock display, DTMF support, Group Call, All Call, Select Call incoming caller ID display, reverse frequency, talkaround, and VOX for hand-free transmit are included. It also has a built-in flashlight.
It's rated IP67 for dust and water protection. It has a built-in USB-C port for charging its 3000mAh lithium-ion battery. The USB-C port is accessible via an easily removable rubber cover that is attached to the radio body.
The radio is fully programmable for maximum customization through software provided by Wouxun. The software supports channel import and export options. This radio is preloaded with popular simplex frequencies for each supported amateur band.
The KG-Q10H comes with accessories including a 3000mAh battery pack, two antennas to handle all of the bands and frequencies it can access, a charging dock, belt clip, wrist strap, an owners manual in English, and a one year manufacturer warranty.
Gallery
Transmitter
| | |
| --- | --- |
| Maximum RF output (watts): | 6 |
Power
| | |
| --- | --- |
| Battery voltage: | 7.4v |
| Battery capacity (mAh): | 3000 |
Physical
| | |
| --- | --- |
| Width (mm): | 54 |
| Height (mm): | 115 |
| Depth (mm): | 35 |
| Weight (g): | 238 |
| Connectors: | SMA, Microphone, Speaker Out, USB Port |
Meta
| | |
| --- | --- |
| Year of release: | 2023 |
| CHIRP compatible: | Yes |
Resources