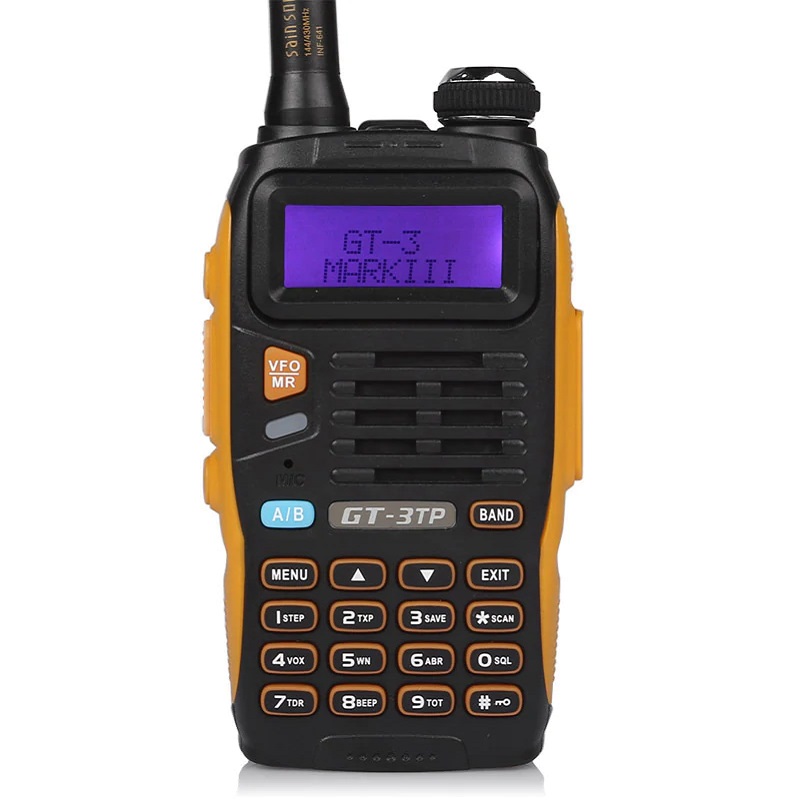 Description
The Baofeng GT-3TP Mark-III is an Upgraded Version of the Baofeng GT-3 with Tri-Power (8W/4W/1W).
New 23CM High Gain Antenna allows GT-3TP to transmit much further.
It comes with a SainSonic Car Charger for charging on the go.
It also comes with an upgraded Antenna connector, Radio Frequency IC, FM Receiver Chip, Power Amplifier IC, etc.
Key Features
Frequency Range: VHF 144-148MHz & UHF 420-450MHz
Tri-Power: High / Med / Low Power (8W/4W/1W)
23CM High Gain Antenna: allows GT-3TP to transmit much further
Big buttons & knob: GT-3TP has a built-in PTT key, CALL key, and MONI key on the left side of the radio
Antenna Interface: Fine copper antenna connector outperforms previous antenna connectors and improves communications.
Radio Frequency IC: Upgraded Squelch enhances interference rejection
RDA1846S IC adds a new tail tone elimination function.
Improved receiver AGC for when signal strength changes are severe
FM Receiver Chip: The RDA5802N has a powerful low-IF digital audio processor. This makes it have optimum sound quality with varying reception conditions.
Power Amplifier IC: Low crossover distortion, Low quiescent circuit current. Provides plenty of clean, clear receive audio.
LED Flashlight: high lumen output
Shell: Upgraded shell: Dustproof
Gallery
Transmitter
| | |
| --- | --- |
| Minimum RF output (watts): | 1 |
| Maximum RF output (watts): | 8 |
Power
| | |
| --- | --- |
| Battery voltage: | 7.2 |
| Battery capacity (mAh): | 1800 |
Physical
| | |
| --- | --- |
| Width (mm): | 58 |
| Height (mm): | 110 |
| Depth (mm): | 32 |
| Connectors: | SMA, Microphone, Speaker Out |
Meta
| | |
| --- | --- |
| Also known as: | Pofung GT-3TP, Sainsonic GT-3TP |
| Year of release: | 2014 |
| CHIRP compatible: | Yes |
| Reviews available: | eHam reviews |