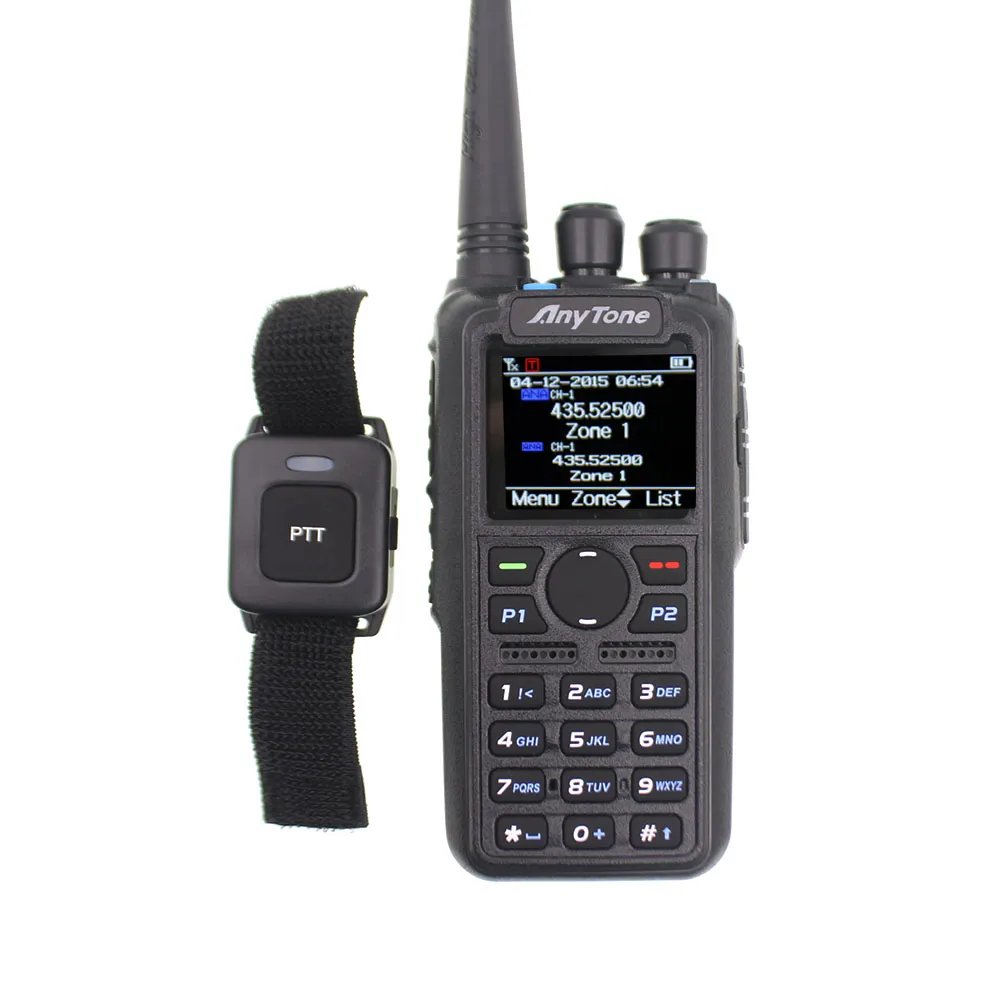 Description
The Anytone AT-D878UVII Plus is a dual band DMR radio. This handheld transceiver is designed for amateur radio operators who value both performance and versatility.
The AT-D878UVII Plus operates on both VHF (136-174MHz) and UHF (400-480MHz) frequencies, offering flexibility for various communication needs. With a storage capacity of 4000 channels, it provides ample space for all your contacts and communication groups.
The AT-D878UVII Plus also comes with GPS, APRS, and Bluetooth functionalities. The GPS feature allows for location tracking and sharing, which can be crucial in certain situations. APRS support provides real-time data communication using packet switching, which is beneficial for transmitting text messages, alerts, announcements, and other important information. The Bluetooth feature allows for hands-free operation, making it convenient to use while driving or when your hands are occupied.
This radio also supports true-2-slot communication which allows for 2 talk paths on 1 frequency. It's compliant with ETSI DMR Tier I and II. The power output can be adjusted according to your needs: VHF: 7/5/2.5/0.2W, UHF: 6/5/2.5/0.2W.
The AT-D878UVII Plus is designed to auto-sense digital or analog reception, enhancing its versatility. It also supports DTMF encode and decode functionalities. The device comes with a 1.77 inch TFT color LCD that displays vital information clearly. It supports dual display; dual standby; and dual PA. It's not just about performance; it's also about durability and reliability. The radio made from high-quality raw materials that ensure its stability even under challenging conditions.
In conclusion, the Anytone AT-D878UVII Plus is a feature-packed DMR radio that offers superior performance without compromising on security or versatility. Whether you're an amateur radio enthusiast or just starting out with DMR, the AT-D878UVII Plus is a worthy consideration.
Gallery
Transmitter
| | |
| --- | --- |
| Minimum RF output (watts): | 0.2 |
| Maximum RF output (watts): | 7 |
Power
| | |
| --- | --- |
| Battery voltage: | 3.7 |
| Battery capacity (mAh): | 3100 |
Physical
| | |
| --- | --- |
| Width (mm): | 61 |
| Height (mm): | 129 |
| Depth (mm): | 39 |
| Connectors: | SMA, Microphone, Speaker Out |
Meta
| | |
| --- | --- |
| Also known as: | AnyTone D878UV |
| Year of release: | 2022 |
| CHIRP compatible: | Yes |
| Reviews available: | eHam reviews |
Resources