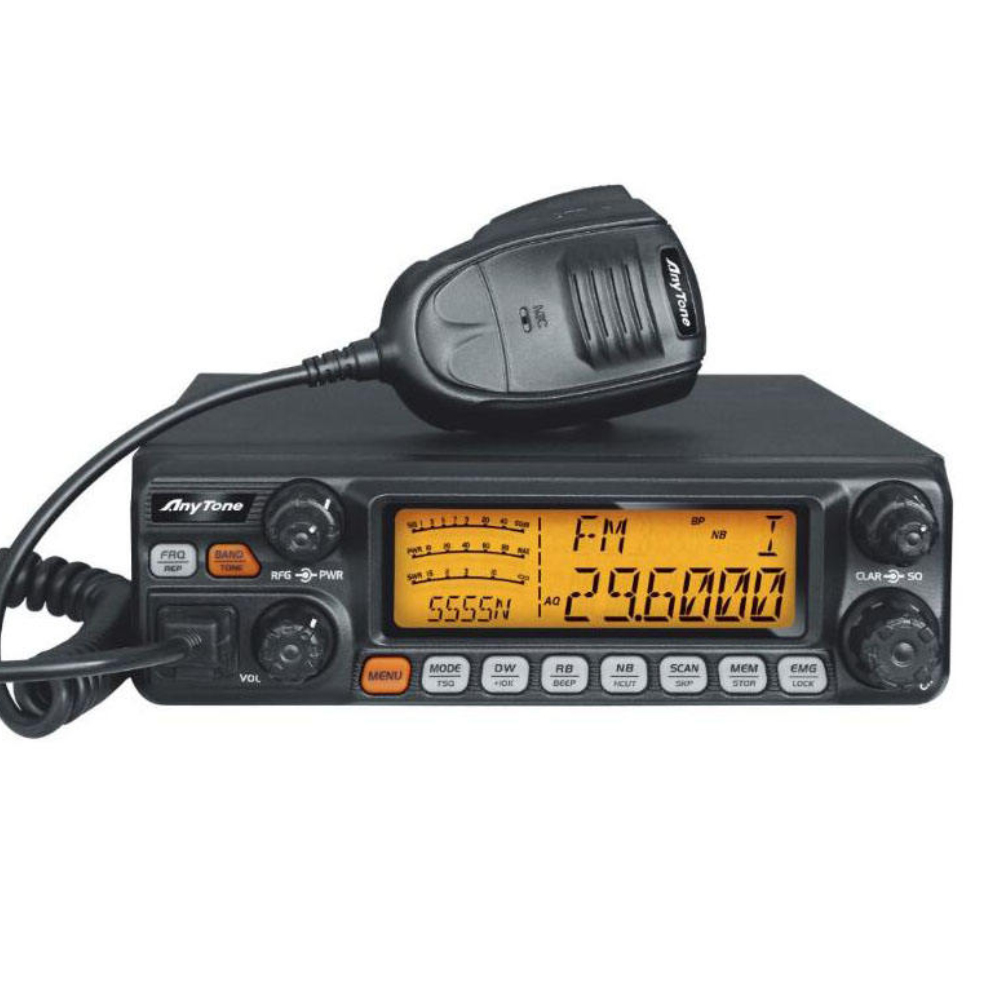 Manufacturer: AnyTone
Categories: HF
Type: Mobile
Guide Price
| | |
| --- | --- |
| RRP ($): | 245 |
| RRP (£): | 200 |
| RRP (€): | 230 |
Buy
Description
The AnyTone AT-5555N is a 10m mobile radio with a large LCD display that shows the operating frequency and 3 useful meters.
Some of the key features of this radio include:
FM, AM, USB, LSB, and PA modes.
100Hz, 1KHz, 10KHz, 100KHz, and 1MHz tuning steps
±1.5KHz clarifier
Flexible menu functions and PC program software (AT-5555N II version only)
ECHO function
Noise cancellation (for FM and AM modes)
RF gain adjustment
Power output adjustment
Scan function
Programmable repeater shift
Noise blanker
Dual watch
It also has features like large S/power/SWR meters, +10KHz function, timeout timer, hi-cut filter, emergency channel, and SWR protection. The radio protects against out of range power supply voltages and has a key lock function.
Memory functions include six groups of memory channels. The model name can be edited to display your callsign instead. Other features are CTCSS (useful for 10m repeaters), VOX, compatibility with electret and dynamic microphones, NOAA weather channel reception, and weather alert.
A feature of the AT-5555N II upgraded version is that it can be programmed via the USB programming jack on the back of the radio using a PC. This provides flexibility to customize the radio frequencies and settings.
It's possible to expand the frequency coverage to also access the 12m and CB bands with a simple internal mod (snip the obvious white jumper wire, and move the jumper from position 1+2 to position 2+3).
Gallery
Transmitter
| | |
| --- | --- |
| Maximum RF output (watts): | 60 |
Power
| | |
| --- | --- |
| Maximum operating voltage: | 13.8 |
Physical
| | |
| --- | --- |
| Width (mm): | 200 |
| Height (mm): | 60 |
| Depth (mm): | 305 |
| Weight (g): | 1.5kg |
| Connectors: | SO239, Microphone, Speaker Out |
Meta
| | |
| --- | --- |
| Also known as: | Radioddity QT60, CRT SS-7900 |