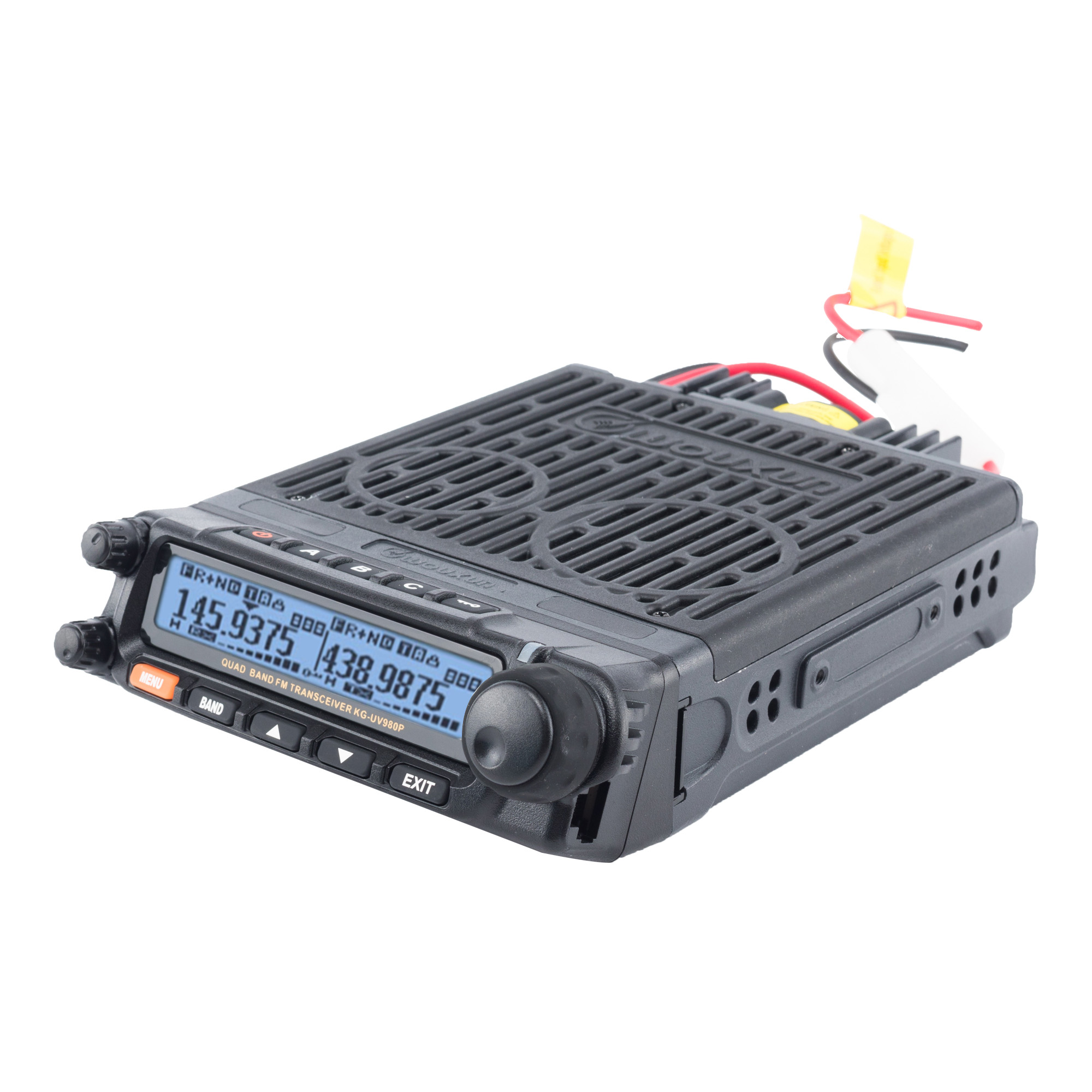 Description
The Wouxun KG-UV980P is a quad-band base/mobile radio that offers a range of features. It provides four-band transmission and eight-band reception, delivering up to 40 watts UHF and 50 watts VHF.
This radio has 999 programmable memory channels with CTCSS and DSC encode/decode, DTMF encoding/decoding, priority channel scanning, and twin band simultaneous reception. It allows for bandwidth selection (25KHz/12.5KHz) and output power level adjustment to high, medium, or low.
The Wouxun KG-UV980P also functions as a full-duplex cross-band mobile repeater with five different repeater settings. It can be connected to another KG-UV980P radio to create a working repeater using the included 15-foot extension cable or the microphone connection cable.
The KG-UV980P features dual speakers built into the chassis with multiple speaker channel settings, along with a speaker in the DTMF hand microphone, totaling three speakers. It also includes standard features such as a built-in 76-108Mhz FM radio, 1750Hz burst tone, Channel Name edit and display, group calls, 8 group scrambler, low voltage voice prompt, stun and kill function, reduced noise settings, remote control setting, and a built-in cooling fan.
The radio has a large, dual-frequency LCD display similar to the KG-UV920P model. The front panel buttons are backlit for visibility in the dark and voice prompts assist with menu navigation. The front panel is customizable and detachable for flexible installation using the included 15-foot extension cable.
The package includes a handheld speaker microphone, inclined switchboard panel, flat switchboard panel, mobile mounting bracket, remote front panel bracket, mobile power cord, 15-foot extension cable, hand microphone hook, fuses, screw set, an owner's manual, and a one-year manufacturer warranty from Wouxun.
The Wouxun KG-UV980PL is a variant of the KG-UV980P model that covers 6m/4m/2m/70cm bands with four selectable power levels: VHF 50W/20W/10W/5W and UHF 40W/20W/10W/5W. It offers 999 memory channels and key features such as Full Duplex Cross-Band with programmable offset frequency and frequency shift direction. It also provides remote control functionality with programmable work modes and reset function. The model includes customized CTCSS & DCS encoding/decoding and an automatic fan.
Gallery
Transmitter
| | |
| --- | --- |
| Minimum RF output (watts): | 5 |
| Maximum RF output (watts): | 50 |
Power
| | |
| --- | --- |
| Minimum operating voltage: | 11.7 |
| Maximum operating voltage: | 15.9 |
Physical
| | |
| --- | --- |
| Width (mm): | 140 |
| Height (mm): | 44 |
| Depth (mm): | 207 |
| Weight (g): | 1438 |
| Connectors: | SO239, Microphone, Speaker Out |
Meta
| | |
| --- | --- |
| Also known as: | Wouxun KG-UV980PL |
| Year of release: | 2019 |
| CHIRP compatible: | Yes |
| Reviews available: | eHam reviews |
Resources