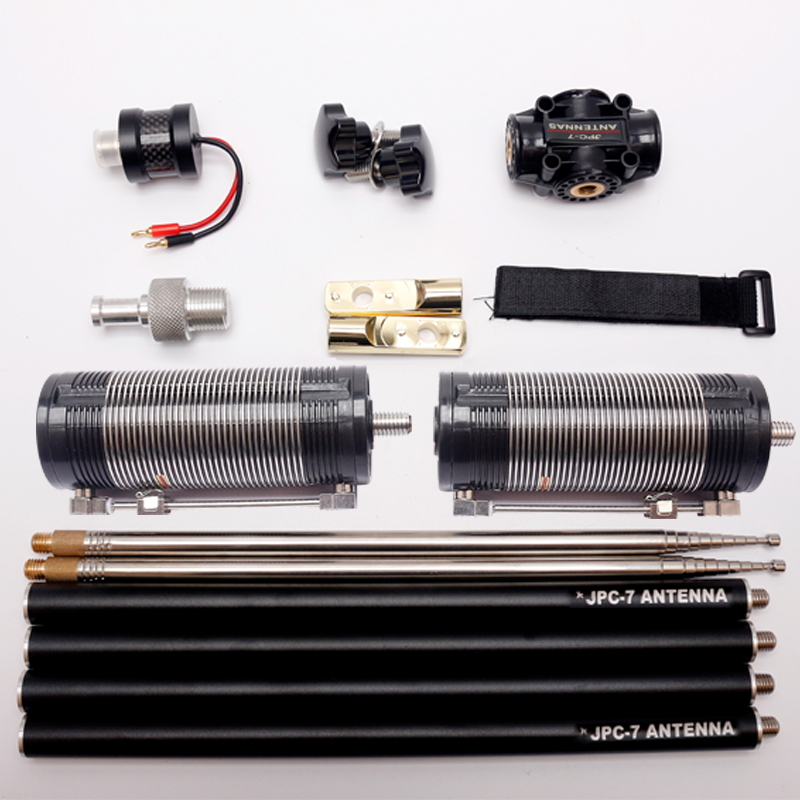 Guide Price
| | |
| --- | --- |
| RRP ($): | 135 |
| RRP (£): | 110 |
| RRP (€): | 125 |
Buy
Description
The JPC-7 is essentially a clone of the popular Buddipole dipole antenna, especially designed for portable operation.
It can be tuned to work on 40m through to 6m, by adjusting the tap point on the coils, with fine tuning achieved by extending or shortening the length of the whips. Four aluminium extension rods are supplied in the kit, which move the coils closer to the centre of each half of the dipole. This slightly increases efficiency over a base loaded whip. It could even be deployed as a vertical, with the other half acting as an elevated radial.
It packs down to only 37cm x 23cm, with the full kit coming in at only 1.8kg, so it doesn't add much weight to your portable kit, and comes with a nyon carry case to keep all the parts in. Unlike the Buddipole, it doesn't come with the tripod/mast, but you may already have something suitable, such a camera tripod or speaker stand. It's really easy and fast to set up, and can be erected by one person in around 5 minutes.
If you happen to break any of the parts, don't worry as replacements are all available individually.
Gallery